Opioid Facts For Parents
WHAT YOU SHOULD KNOW ABOUT OPIOIDS?
Opioids are a class of drugs that include the illegal drug heroin, synthetic opioids such as fentanyl, and pain relievers available legally by prescription, such as oxycodone (OxyContin), hydrocodone (Vicodin), codeine, morphine,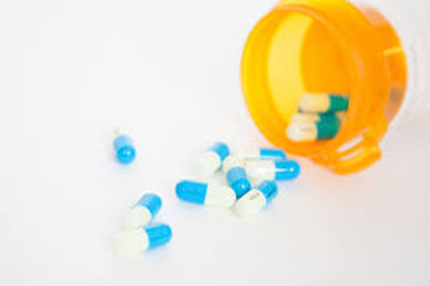 and many others. These drugs are chemically related and interact with opioid receptors on nerve cells in the body and brain. Regular use—even as prescribed by a doctor—can lead to dependence and, when misused, opioid pain relievers can lead to overdose incidents and deaths (National Institute on Drug Abuse, 2018).
IS YOUR CHILD AT RISK?
Most prescription narcotics used by high-school seniors are obtained through a friend or relative—not through a prescription.
Nearly one in five teens say they have used prescription medicine at least once in their lifetime to get high
Opioids have been linked to 60 percent of drug overdoses in the U.S.
In 2015, 58 percent of 12th grade students reported a "great risk" in trying heroin
There are 144 drug overdose deaths per day in the United States. Sixty-three percent of those deaths are related to pharmaceutical opioids or heroin
4 million Americans indicated misusing prescription opioids in 2015
(Discovery Education, Division of Discovery Communications LLC, 2017).
WHAT CAN YOU DO?
Trust your instincts, you know your child best
Talk to your teen
        WATCH FOR THOSE SIGNS
Negative changes in grades
Skipping classes or school
Dropping longtime friends
Loss of interest in usual activities
Changes in appearance
Changes in general behavior, including sleeping
(Discovery Education, Division of Discovery Communications LLC, 2017)
 MONITOR
Teens who have been prescribed opioid medications are at an increased risk of opioid misuse. If your child has a prescription for opioid medications, check the bottle regularly to ensure that the prescription is being used at the prescribed rate.
Pay attention if your child requests an early refill after "losing" the bottle or "dropping" the pills in the sink (Discovery Education, Division of Discovery Communications LLC, 2017).
Teens who are supervised by their parents and have strong bonds with their parents are less likely to misuse or abuse drugs.
STORE PROPERLY
Check your cabinets and make sure your medications are properly stored
Keep your medications locked
DISPOSE
Get rid of any unused prescription medications that are expired or no longer active
You can drop off your unused medications at local police station
More locations can be found on the U.S. Department of Health and Human Services website
Watch for community Prescription Drug Take-Back Days hosted by Drug Enforcement Administration
REACH OUT FOR HELP
TO LERN MORE VISIT THE FOLLOWING RESOURCES:
https://www.dea.gov/pr/multimedia-library/publications/DEA_Prescription-For-Disaster_508ver.pdf
National Institute on Drug Abuse: Preventing Drug Use Among Children and Adolescents:
https://www.drugabuse.gov/publications/preventing-drug-abuse-among-children-adolescents/
National Institute on Drug Abuse: Opioid Prescribing Resources: https://www.drugabuse.gov/
nidamed-medical-health-professionals/tool-resources-your-practice/opioid-prescribing-resources
National Institute on Drug Abuse: Pain Medicine (Oxy, Vike) Facts:
Talking With Your Child About Opioids 
Developed and funded in whole and or part, by the Illinois Department of Human Services and/or under grant number SP20150 from the Office of National Drug Control Policy and/or Substance Abuse and Mental Health Services Administration. The views, opinions, and content of this publication are those of the authors and contributors, and do not necessarily reflect the views, opinions, or policies of IDHS, ONDCP, SAMHSA, or HHS, and should not be construed as such.