Social Host Law
Social hosting occurs when adults knowingly allow alcohol consumption by minors. Most Wheeling Township adults know that providing alcohol to minors is illegal. Illinois law states that violators of the social host law will be guilty of a class A misdemeanor and subject to a fine of not less than $500 when they knowingly authorize or permit underage drinking in their home. If this activity results in great bodily harm or death to any person, the individual is subject to a Class 4 felony. However, a person will not be in violation if he or she has taken all reasonable steps to prevent this activity from occurring. Also, no charges will be filed if assistance is requested from law enforcement after discovery of the illegal activity.
It is illegal for anyone under 21 years of age to purchase, consume, or possess alcoholic beverages. Anyone who knowingly allows the consumption of alcohol on his/her premises by a minor (under 21 years of age) may be charged with contributing to the delinquency of a minor.
A civil lawsuit may also follow.
Visit the website below for tools and information to help our community reduce teen drinking and related harm.
Teens who drink usually get alcohol from "social sources" — at parties, from older friends and family, or by taking it from a cabinet or refrigerator without permission. Teen drinking is linked to injury and risky behavior. We can reduce teen drinking by stopping teens' easy access to alcohol.
Scroll down for safe party throwing tips!
A Parent's Guide to Teen Parties
Parties are an important part of young people's lives for socialization, relaxation, and entertainment. Unfortunately, hosting or going to a party can include other activities that could prove harmful to teens. Parents have the right to expect that social situations remain free from alcohol/drug use and other risk-taking behaviors. If you choose to host a party for your teen and their friends remember you are ultimately responsible for the actions that occur on your property.
10 Tips for Hosting a Party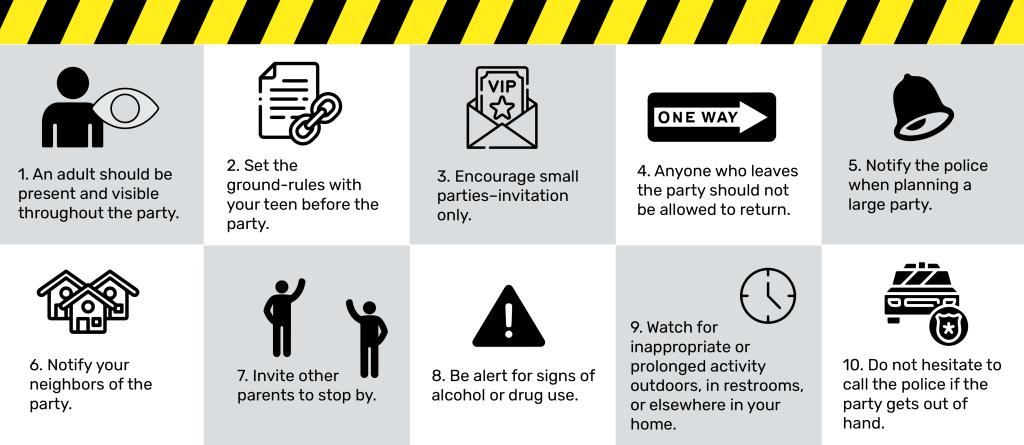 If Your Teen is Attending Someone Else's Party, You Can:
1. Contact the parents of the party host to verify the plans.
2. Know where the party is and how to get there. Let your teen know to call with any changes in plans.
3. Check the ending time to be sure it fits with curfew restrictions.
4. Be aware when your teen comes home, or have your teen waken you when her/she arrives.
5. If your teen is staying overnight, plans should be made prior to the party and verified with the other parent.
Also verify that no drugs or alcohol will be permitted.
6. Allow your teen to always feel comfortable to call home for a ride or assistance.
When Parents Are Away…
1. Let your neighbors know when you'll be gone and when you'll return.
2. Make arrangements for a friend, relative, or neighbor to keep an eye on your home.
3. Provide supervision for your teen.
4. Let police know when you will leave, who has access to your house, and when you will return.
5. Let the parents of your teen's friends know you will be away. Discuss all details and guidelines with your teen before you leave.